Our congregation has been a Fairtrade Church for many years but in 2020 we renewed our commitment and received this certificate.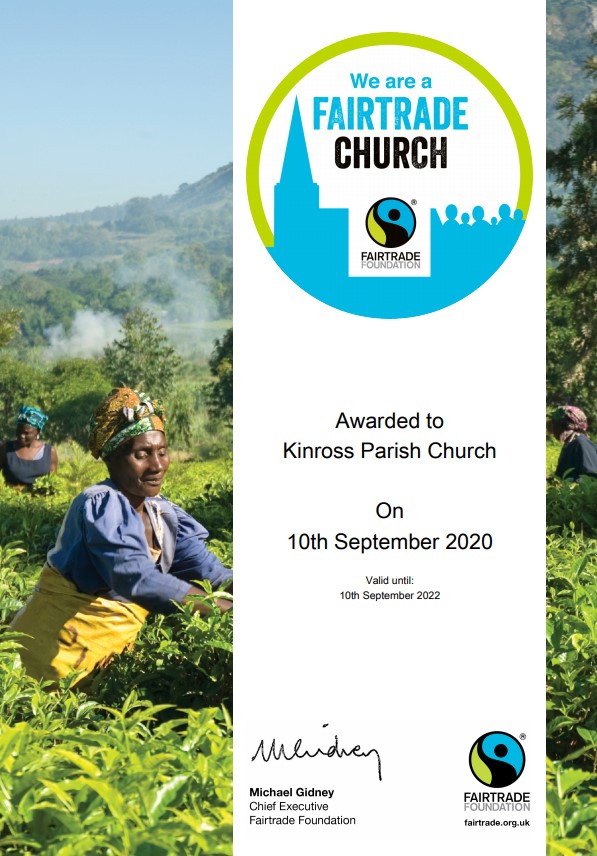 This means that we commit to:
1. use Fairtrade products wherever possible (at least tea, coffee & sugar) and to share this information with the wider congregation.
2. integrate Fairtrade into the life of our place of worship, at Fairtrade Fortnight or other times of the year through other activities, sermons and services.
Traidcraft Stall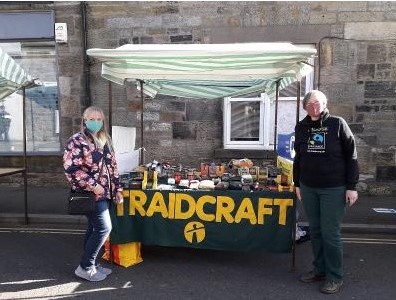 We also support Traidcraft by selling Fairtrade products from Traidcraft usually every week after the service from our well stocked cupboard. While the church building is not currently open, we are still happy to deliver orders and are also selling at the Kinross Farmers' Market every month in line with current Scottish Government guidelines. We can order anything from the Traidcraft Shop or from Just Trading Scotland (a not for profit trade organisation) where we buy the wonderful Kilombero Rice which tastes great as well as supporting farmers in Malawi, helping them to pay for their children to attend school. Just Trading Scotland also sell delicious curry sauces and chutneys from Eswatini (formerly known as Swaziland) and tomato sauces from Meru Herbs in Kenya. Why not try some of their recipes?
21 February - 6 March 2022
Fairtrade Fortnight - read more about how you can help, support and make a difference.
February 2022
CHOOSE THE WORLD YOU WANT - Climate, Fairtrade and You. What Has Fairtrade got to do with tackling the climate crisis? Read more from individuals and churches (including our own Fairtrade Team) who are already involved. It also presents challenging and informative information about how we can all contribute and support.
April 2021 saw some of our Supporters of Traidcraft Exchange take on the challenge of trekking to Santiago - from home! They took up the challenge of walking 100km in April in support of the charity's 'The Regenerators Appeal', raising £2169 which was doubled by the Government. This will help small producers in the developing world meet the challenges of climate change.

Congratulations ladies!
June 2021
We have received our yearly total for Traidcraft Sales − £12,813.02! This is an amazing amount considering the year we've had. A huge thanks to you all for your continuing support. We are looking forward to a year that might be nearer to "normal" and to continue selling our Traidcraft goods including Kilombero rice at £3 a kg. We would like to be able to buy another 90kg as the Malawian rice farmers are having a particularly difficult year in terms of sales. If you would also like to buy a bag to donate to Broke Not Broken, we can organise that too.