" We have different gifts, according to the grace given to each of us." Romans 12:6
There are many opportunities for our gifts and talents to be used in the service of His Kingdom.
Here is the link to our teams. For more information please speak to the Minister or Session Clerk about what you might be interested in and what opportunities are available. If you check out more of our groups under Church Life, you might also find something there.
Administration and Communication Group
Discipleship Group
Finance Group
Outreach Group (including Eco-Group)
Pastoral Group
Property Group
Worship Group
Alongside these working groups, there are also many other opportunities to become involved on a regular or not-so-regular basis. If you would like to assist in, for example, a Sunday Service reading, join the Welcome Team, tea/coffee rota, volunteer in the Church Office, bring your expertise to the AV, mic or website teams (to name but a few) – we'd love to hear from you.
Becoming a Member
The Church is open to all and you do not have to be a member to attend any of our services or activities.
If you are ready to commit yourself to following Jesus Christ and to playing an active part in the life of the Church, we would invite you to consider becoming a member.
If you have been a member of a church elsewhere, we can arrange for you to transfer to Kinross Parish Church.
If you are new to the Christian faith, you are welcome to join an enquirers' group to explore the Church's teachings and decide whether you wish to make a public profession of faith in Christ and become a member of the Church.
If you do not wish to become a member formally you may ask for your name to be added to the roll of adherents.
Please contact the Minister.
Sometimes it is hard for us to recognise our own gifts and to discern the gifts we have been given. Here is a link to a free downloadable online tool called 'Discovering Your Basic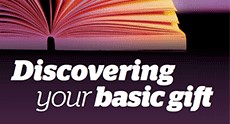 Gift' provided by Waverley Abbey Resources (previously known as CWR) which may be useful.