World Day of Prayer 2021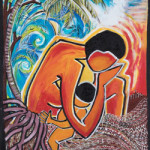 Organised by Kinross-shire Churches Together, the World Day of Prayer Service on Friday 5 March comes from the women of Vanuatu in the South Pacific. Vanuatu is a widespread archipelago of islands in the South Pacific, and as well as coronavirus last year, the islanders have had to contend with Cyclone Harold, which totally destroyed two of the islands.
Appropriately their title is Build on a Strong Foundation, and they have chosen the parable of the man who built his house on the rock.
If you would like to join in, see the link in the weekly Sunday worship email or email office@kinrossparishchurch.org.
If you can't manage the date, you might like to check online for the international version of the service, which includes recordings on Vanuatu. The link is https://youtu.be/edQMgNFdRdo.