This Fairtrade Fortnight 22 February - 7 March 2021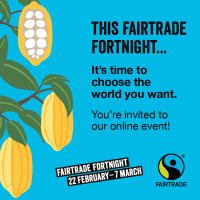 It's time to choose the world you want.
Please come to Perth & Kinross Fairtrade group's online Zoom event on 23rd February 2021 at 7pm. Hear Matt from Traidcraft talk about the challenges Traidcraft has been facing, hear about the difference buying from Traidcraft makes and find out about new products and let's get ready to support Traidcraft together! If you would like to attend, please email Karena or the church office and you will be sent the link.