Launch of Mission Aviation Fellowship Partnership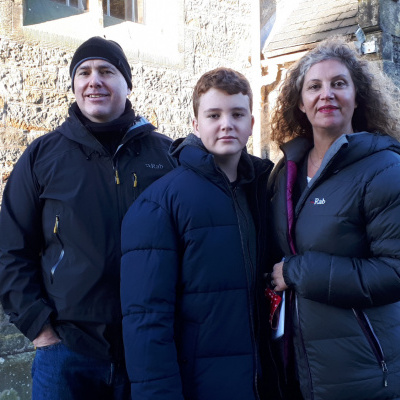 On Sunday 16 January the Jack family joined us to launch our year of partnership with MAF. Former head of MAF Scotland, Ruth Jack, her husband Duncan and their son Samuel were just home after serving MAF for three years in Arnhem Land in Australia's Northern Territories. Ruth and Duncan had been the first married couple to run a MAF overseas country programme. In April, Ruth will become MAF country director in Uganda which programme KPC has chosen to support.
Uganda is a refuge of hope for those fleeing conflict. Today MAF is serving the huge refugee camps that have sprung up to host the influx of people coming from neighbouring South Sudan and the Democratic Republic of Congo (DRC).
The condition of Uganda's roads makes overland travel dangerous. MAF flights enable humanitarian and mission partners to arrive safely at locations where they are assisting victims of violence, providing nutrition, education and healthcare to children, and delivering training in farming techniques and livelihood support that is lifting households out of poverty for good. Five dedicated aircraft enable any location inside the country to be reached swiftly and safely within 90 minutes. Shuttle flights provide vital connections with areas of need in the DRC and South Sudan. People in need are helped because they can be reached quickly and safely by a MAF plane.
Please give prayer support to the Jack family as they embark on this next challenging mission calling. If you are able, please also consider financial support. We have a number of fun activities and events planned for the partnership year ahead, such as a Quiz Night on Friday 22 April at 7pm in the Church, to be hosted by Andy Martin, MAF community manager.
Follow their journey here:
The Jacks in Uganda - Facebook