Family Advent Activities in Kinross Parish Church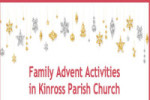 Nativity Preparation: Sunday mornings from 27 November onwards
Who: for children
What: our Nativity Service is on Sunday 18 December at 10.30am. During preceding Sunday services we hope that the children will have fun preparing for this.
Family Film Evening: Thursday 22 December 6.30pm
Who: for families
What: we'll be watching Nativity and there will be popcorn and ice-cream.
Look out for details of future events in the New Year, including a Church family ceilidh and a quiz night.