Crossfire - Sunday evening fellowship and fun for P7 upwards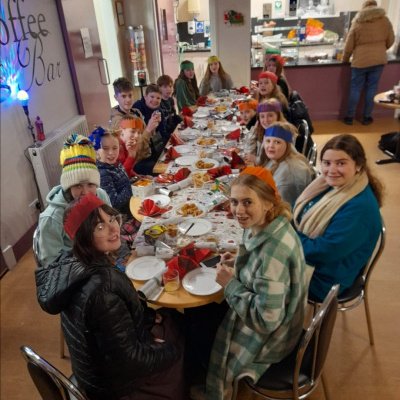 It's great to see so many new faces at Crossfire, our Sunday evening group for young people aged P7 upwards. We meet at a new time of 6–7.30pm, in the Church Centre during term- time. We enjoy games, chatting, food and fellowship as we journey together discovering and learning that we are God's children, unique, precious and dearly loved. We enjoyed a brilliant Christmas party, dark night fun and games and trampolining at Air Thrill, Falkirk.
If you or someone you know would like to join our group, please get in touch.
PROGRAMME:
Sunday 26th February - Tik Tok - dance/baking/games.
Sunday 5th March - Bubble tea and balloon modelling and games.
Sunday 12th March - Beetle Drive.
Sunday 19th March - Obstacle course - The challenge.
Sunday 26th March - Easter Extravaganza.
Volunteer request: if you would like to help provide a supper meal (pizza, pasta or hot dogs, etc) I would love to hear from you.
Please pray for our young people as they prepare to sit their exams and make decisions about their futures.
Jenny Masson