Bringing KPC Services to You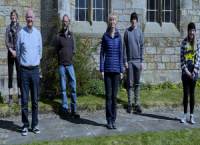 A year ago KPC was lucky enough to have the Rev Kathy Dain arrive just prior to lockdown. Her experience in broadcast production allowed us to begin livestreaming services while the
Church was closed. Kathy has moved on, but she helped put in place an AV team enabling us to carry on livestreaming for the foreseeable future. Our AV1 Leader is Jonnie, who is assisted by a group of AV2 volunteers who monitor Zoom and Facebook during the service and manage the camera feed to the sanctuary screens.
We are always looking for additional volunteers and would welcome anyone who might be interested. Please contact Ann Marie Neave or the Church Office.