Become a volunteer!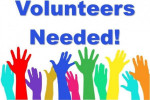 You may have noticed that the morning online service is slightly different - another change. Rather than being recorded entirely by individuals at home and then edited together (a hugely time-consuming task for Kathy Dain over the last months), the service was recorded 'as live' in the church with items on video being patched in.
Please be patient with as we become familiar with the new technology and can move towards broadcasting the service live on a Sunday morning.
We urgently need to extend the team of people training to make this possible and if you would be willing to be part of that team please contact Alan Reid or Kathy Dain in the first instance.