December 2021
What Will We Become as a Church?
Read the recent article in Kin-nections by the Rev Alan Reid
June 2021
The GY team have been having conversations with house groups and others to understand what is important to all of us and what our hopes and dreams are for our Church for the future. Read the latest article in full on pages 4 & 5 in the June - August edition of Kin-nections. It includes more detail and information about the word clouds shown below and also about the next steps.
March 2021
110 people took part in the recent Growing Young survey.
"The Growing Young team, in consultation with the Kirk Session will be reflecting on these results over the coming weeks, and during the coming months we will be experimenting in different areas of our church life and continuing our conversations with groups and individuals of all ages in the congregation and beyond it to see how we can make the hopes and dreams of what Kinross Parish Church could be like going forward a reality." Rev Alan Reid
Growing Young survey results: download here
Over the next few weeks we will be organising more Growing Young conversations. Let us know if you would like to join one by contacting the church office or any member of the Growing Young Steering Group. Meanwhile here are three 'word clouds' built from earlier responses to three questions.
Collated responses from Growing Young Conversations: download here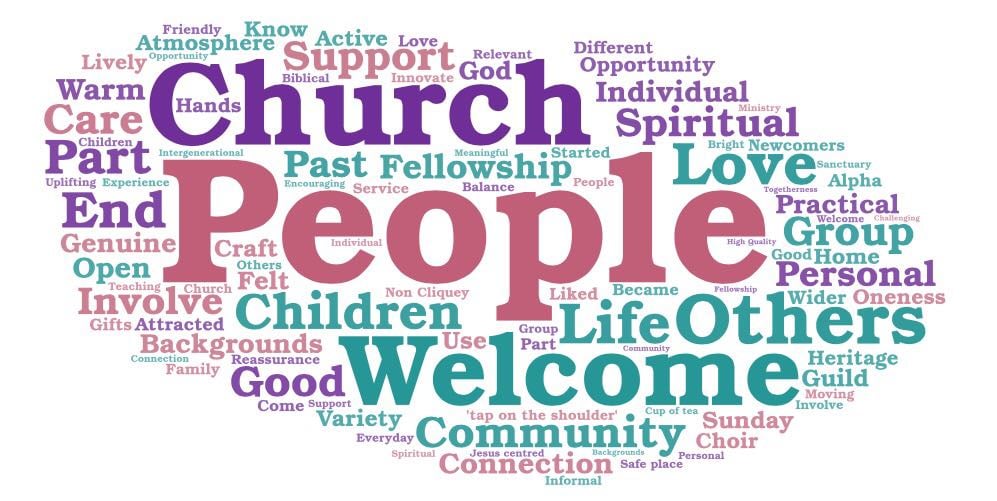 What do you love about Kinross Parish Church?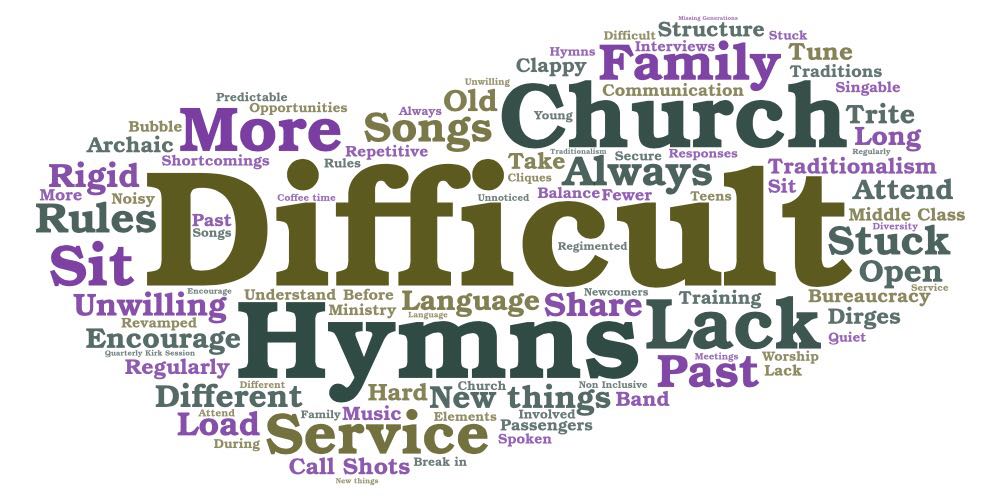 What do you struggle with in Kinross Parish Church?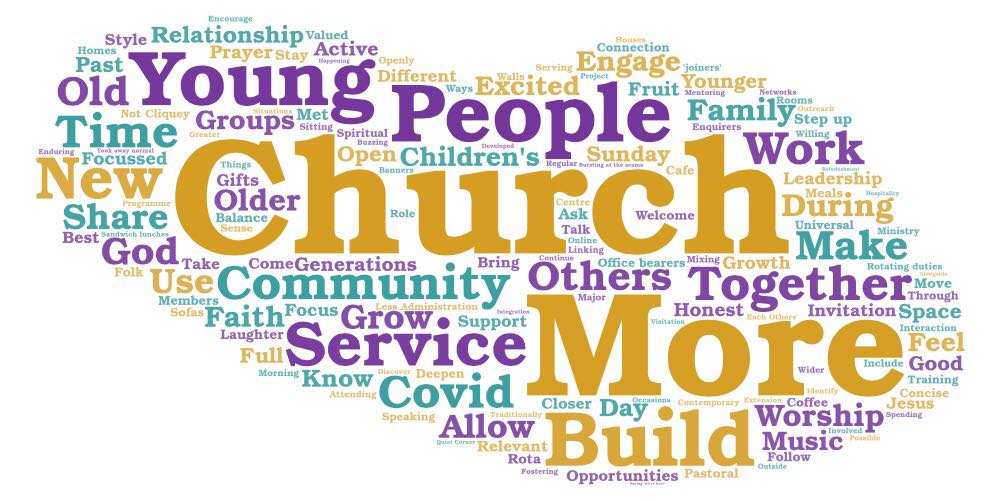 What are your dreams for Kinross Parish Church?
January 2021
The steering group working on Kinross Parish Church's Growing Young (GY) project are starting the year feeling positive, as conversations begin to strengthen relationships in our church family.
GY is a process of forward-looking cultural change, led by the US Fuller Institute and based on global research. We are one of 25 Church of Scotland congregations who are now about five months into the programme, which aims to equip us to meet the needs of all generations in our church family and ensure that our churches' future is secured for younger people.
The programme encourages us to make positive changes not through quick fixes or glossy modern ideas, but much deeper cultural shifts in our attitudes and behaviours. These take time, and start with listening.
We have been using the GY resources to help us listen in an open way, aiming for honest conversations and a culture of curiosity, as well as finding out what KPC's strengths and weaknesses are in relation to GY's six core themes. We were thankful that over 100 people of all ages completed the GY survey. These anonymous responses will be analysed alongside topics that emerged from listening sessions which took place with house groups and others.
Kicking off 2021 with a sermon series based around the GY core commitments is a great conversation starter, alongside mini interviews during services. Building on our reporting to Kirk Session, we hope to have opportunities to discuss GY resources with Session.
The survey results will be shared with the congregation and will help inform our action plan, which asks where we are, why, and where God is leading us. Conversations will be revisited and deepened as we encourage everyone to share their hopes and dreams for our church and help shape this exciting time of growth and change.
Being part of the core GY group, made up of six people of different ages, has been a positive experience. Eleanor says, 'When I first joined I didn't expect it to be as good as it has been. I have loved talking and listening to people within our church community who I wouldn't normally talk with. I was surprised how much people have wanted to engage in the process which has been encouraging for us all.'
What can you do?
Pray that the GY process would be meaningful, resulting in the right changes at the right time.
Pray that the core team would be good listeners and good communicators, fostering a culture of curiosity in our church family.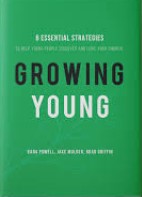 Pray that everyone in our church family will feel able to contribute to GY conversations and know that their opinion is valued.
Talk about GY with your friends and family in and out of church. The core team will be happy to talk with you, too.
Ask how younger people can be involved in plans, decisions and actions throughout your church life.
Read the GY book to understand the research, aims and process. Contact Alan Reid if you'd like to borrow a copy.